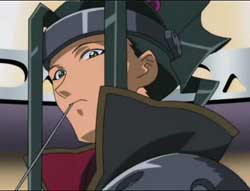 Biography
Edit
Gascogne Rheingau runs the Nirvana's Registry and is responsible for supplying the Dread fighters with all of their weapons for their battles against the Harvesters, either inside the ship or outside, while piloting a delivery vessel. While her Registry crew might lose their heads amongst the excitement and intensity of the battles, she is always able to help them maintain their cool by reminding them to "Smile, smile!" On top of her duties as the head of Registry, she is Magno's third-in-command, after BC. She is very much like a big sister to the rest of the crew and is there to give sarcastic advice whenever it is needed (although sometimes not appreciated). During her spare time, or when there are no Harvester encounters, she enjoys playing a round of poker with Hibiki. She seemingly despises being called "Gasco". Gascogne acts like a big sister to Hibiki, giving him advice, as well as spending their free time together.
In Second Stage, the Nirvana was caught in a seemingly impossible battle against a Harvester mothership. In an attempt to save Barnette's Dread from being crushed by a Copy-Nirvana, Gascogne, in the delivery ship, flies in and shoots missiles at the unit. Although Barnette was jarred loose from the impact, the copy turns its rage onto Gascogne and impaled the ship. As it fell into the mothership and burst into flames, the delivery ship is swallowed up and Gascogne is unable to escape. It is assumed that she did not survive the crash. However, she shows up very much alive, during the final battle against Earth, piloting the same mothership, after commandeering its systems.
Gascogne does not appear in the manga.